For the past month or so, I've been yanking my hair out trying to figure out how to make the perfect dishcloth. I'm still on a journey but I thought I'd share some of my creations to show you that I actually have been doing stuff.
After much unraveling and rework, his is the first dishcloth I completed while watching The Grammys a few weeks ago. I used Peaches N' Cream Peppermint cotton yarn, which you can purchase at Wal-Mart for pretty dang cheap.
As you can see, the cloth is extremely lopsided. Also, I think the stitches in it are WAY too big and would probably make the cloth get REALLY REALLY BIG and not very scrubbable if it were used in the sink. I guess this can serve as a potholder or something.
Moving on to another cloth, made with the same yarn:
Now, this is more along the lines of what a typical crocheted dishcloth looks like. I used a tighter stitch, and it made this cloth really, really awesome to use in the sink.
But alas, I still wanted to make pretty (and marketable) dishcloths to sell and make a little extra cash on the side. So I went to Hobby Lobby on Monday and bought a book of dishcloth patterns.
Let me say this: I cannot read patterns. Patterns make me feel like I'm in Algebra class, taking a test I haven't studied for, and I'm in my underwear. They literally give me headaches. So I really just look at the photos and try to wing it from there.
This cloth isn't perfect, but it's a little bit closer to something I could sell: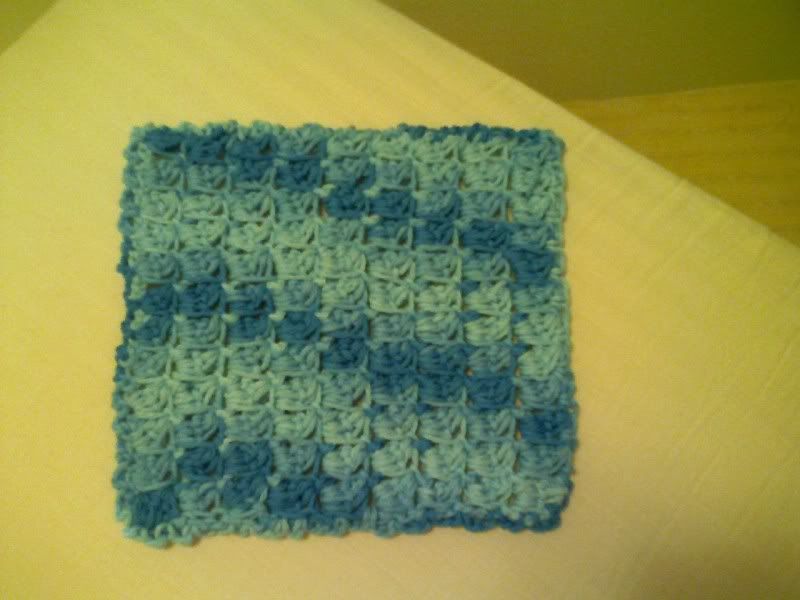 This makes use of a bobble stitch, which is really fun to make but also really fast to work in. However, I have noticed that the cloth is still a bit uneven, and I'm not happy with the edging at all.
So – thoughts? Techniques? Songs you want to sing?