I did it. After months of waiting, I purchased the Zumba Fitness
Bundle for the Wii. The motion-based dance-fitness game was released only three days ago for the Wii and the Xbox Kinect, and after three sessions with Zumba, I can say with confidence that this is definitely going to be one of the most popular games this season.
Zumba is the latest trend in workouts. It is a high-energy but fun dance workout that combines Latin, Reggae, Hip-Hop and other international music and moves that resemble something from a Black Eyed Peas video. It is very fast paced and VERY challenging, and has spawned videos, classes and a huge following.
I had not done any Zumba activities before purchasing this game, but I was already feeling a lack of challenge in my normal Wii workout routines and knew this would be just the thing for it. I was right – and lemme tell ya – I feel just as worked out as if I had been hiking for an hour, and I only worked out for 20 minutes.
Here's the trailer for Zumba Fitness. It definitely got me excited!
Zumba Fitness for the Wii retails for $39.99 at most retailers. That's ten dollars cheaper than Zumba Fitness for the Kinect – and when you get the Wii game it comes with a belt to hold your Wii Remote so Zumba can tell you if you're doing it wrong.
Since I look absolutely nothinog like the washboard-abbed girl on the box, I took one look at the belt and said, "Yeah, right." But surprisingly, I managed to fit it around my waist. You position the belt so the remote will slide in along your hip. This is how the game detects your movements.
Once you create your profile, you can immediately begin various parts of the game. There are tutorials that I HIGHLY RECOMMEND if you have never done the Zumba workout before. These will take you step-by-step into various dances, including the Calypso, The Machete, the Meringue and other moves. They will also gradually add other moves in.
In addition to giving you a great workout, Zumba Fitness is still a game – and as a result, there's no skipping around to different routines or settings. The point of the game is to complete various "stages." When you are perfectly mimicking the moves of your instructor, he/she will turn green and will say phrases like "You've got it!"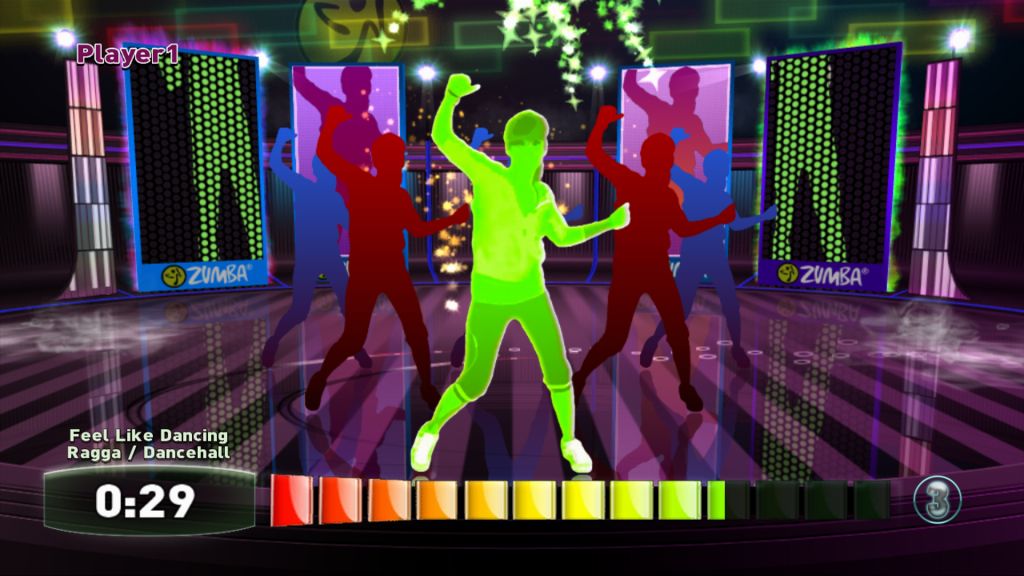 Your points are accumulated at the bottom, and once you get to the end, you have completed a "stage." As you complete stages, the screen becomes more elaborate, getting additional lights, features and dancers – and as you complete final phases you will be able to unlock additional features in the game. I have not yet unlocked anything in this game, so I can't tell you what the rest of it is like.
It really is a great workout – especially for anyone who is looking for something that is not only fun and challenging. its unlockable features make you want to "play" more and essentially "win" the game. You will move and you will particularly feel work in your hips and abs, but it is a complete body workout. There is quick moving from side to side, circling around, jumping, clapping and other movements that make it fun.
My favorite surprise was that the "cool-down" portion of the beginner's workout was an Indian bellydance routine that immediately made me feel like I was in a Bollywood film. These slow movements are combined with some basic yoga poses that are always good for stretching out the body after the workout.
As with any game, there are a few flaws. There is no way to save your progress if you decide to step out of a workout early – so if you quit, you have to start all over again and re-accumulate those points. But again, that just adds to the challenge element of it.
Also, there is currently no way to purchase additional remote belts so you can invite your friends over for a big Zumba party. One of the game's guides urges players to go to Zumba's web site to purchase additional belts, yet they are not currently listed in the Zumba store. But I'm sure you could just as well have a zumba party if you made a makeshift holster for the remote and used that until you can find a permanent replacement.
Before you start your Zumba workout, you should consult your physician to make sure it's okay for you to do high-impact aerobics, and you should keep plenty of water on hand. You are going to sweat a LOT during your workout so during each short break you'll need to chug some water.
I also recommend putting a towel in the freezer before you workout so you can have something nice and cool to wipe the sweat off of you when you're done. Having wet hair as opposed to dry hair during your workout also helps you keep cool.
This truly is a SUPERB game. It makes exercise fun AND intense, which is very hard to combine these days. However, I think when Ubisoft's Michael Jackson: The Experience comes out on Tuesday, the two will be in great competition. I do intend to buy MJ because it, too, looks to be a great workout – but for now the King of Pop can wait.