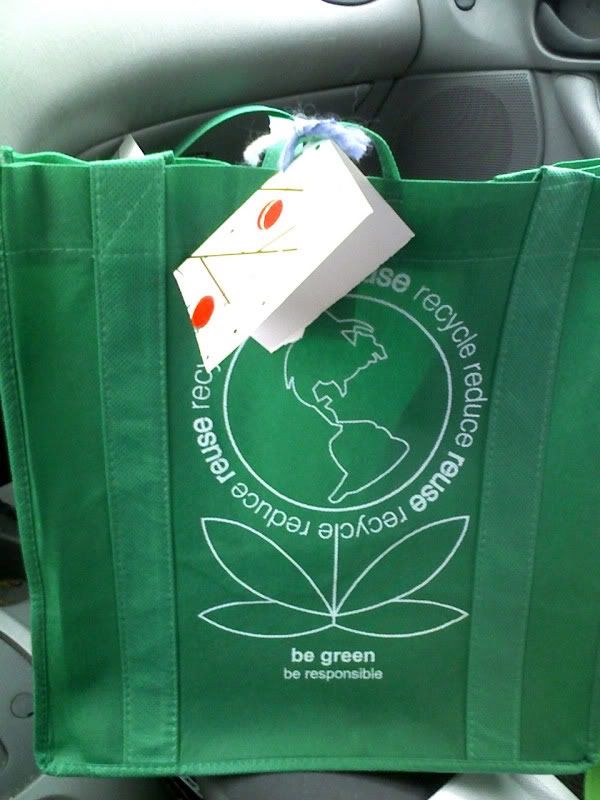 Well, the presents have been exchanged and Santa has ridden off in his sleigh to go and make toys for yet another year. This year I decided to encourage my friends and family to reduce, reuse and recycle this year by presenting all of their gifts in reusable mesh bags.
I told you about this a few posts ago. I purchased these lovely green bags at my local grocery store and at Walgreens for 99 cents each.
Both times, the cashier would look at me funny for just buying a bunch of bags with no groceries inside. When I explained to them that I was using them as gift bags, they both said it was a great idea.
This is what I like about the reusable bags:
• They are MUCH, much cheaper than the paper gift bags you buy at the store.
• They can hold a LOT more, and are really, really sturdy.
• The gift recipient can use the bag again. Hopefully for grocery shopping, but also as a gift bag to someone else.
It's like you're packaging their gift with another gift!
In continuing my aim to have less waste this year, I used my gift tags by removing the front flap of a couple of holiday greeting cards I got this year. I cut them each down to tag size, folded them in half and used my scissors to cut about a cenimeter-wide hole straight into the fold.
I looped a piece of yarn leftover from all my crocheting, inserted it into the hole and tied it around the handle. Ta-DA! No extra money spent on gift tags.
My friends and family LOVED 'em. My sister in law even said, "The more of these bags I get, the better."
I'm definitely going to keep up with this idea for future gift-giving.
I hope everyone got a great holiday loot!