This is a Sponsored post written by me on behalf of Nectresse™ Sweetener for SocialSpark. All opinions are 100% mine.
Rarely do I get personal here, but as I'm writing this, I'm preparing for my mother to go into dialysis treatment. Her kidneys are unfortunately no longer able to do their job, and it's a direct result of her diabetes. I have diabetes on both sides of my family, and I'm so happy that there are increasingly good alternatives to sugar that can help diabetics and pre-diabetics maintain their sugar levels.
There are so many products available now that sweetener is starting to get its own section in grocery stores! Well, here's a new one: NECTRESSE™Sweetener, the only 100% natural sweetener made entirely from fruit – Monk fruit, to be precise.
Native to China, Monk fruit is 150 times sweeter than sugar. And unlike a lot of sweeteners, NECTRESSE(tm) can be used in baking and cooking! I decided to whip out my creative culinary skillls and make up a recipe for Berry dessert pizza.
Here's what you'll need:
8 oz. low-fat neufchatel cheese, softened
1 cup of berries (I used raspberries, blueberries and blackberries)
1 pizza crust
3 packets NECTRESSE(tm) Sweetener
1) Preheat the oven according to the directions on your pizza crust. (I used a starter crust from Schwan's that consisted of frozen pizza dough, so your mileage/time/temperature may vary)
2) Mix neufchatel cheese with two packets of NECTRESSE(tm). Spread onto the pizza crust.
3) Mix the berries with one packet of NECTRESSE(tm).
4) Bake according to the directions for your pizza crust.
5) Remove from oven, cool, slice and EAT!!!!
Here's the final product: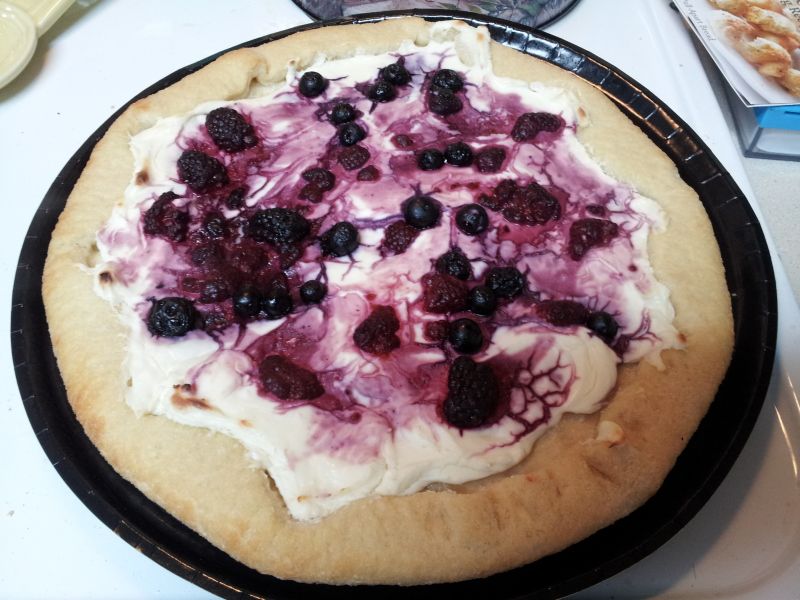 I tried this out on my mom, who didn't have much to say except "MMMM." Tonight the boyfriend gets to try it. I loved it, and by using the low-fat cheese, berries, crust and NECTRESSE(tm) I ended up with a delicious treat that was low in fat and calories and high in antioxidants.
It's important to note that if you're watching your carb intake, NECTRESSE(tm) has two grams of carbs per packet.
You can get a  FREE sample of NECTRESSE™Sweetener to try out for yourself. Also, here's a video testimonial from TV journalist Lisa Ling:
NECTRESSE(tm) comes in convenient packets when you're on-the-go, or in canisters for baking, cooking and adding to your cereal or beverages. Be on the lookout for it!