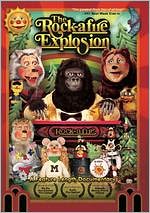 I am no stranger to kid-friendly animatronic characters in pizza restaurants. My first job, in 1995, was as a hostess at Chuck E. Cheese's. I look back on that job as one of the worst I ever had, full of stresses, helping to rescue infants out of the ball pit, and coming home sobbing every night.
But alas, everyone must have a first job, and I'm glad I did have the chance to work there – even though while I was I had no real understanding why it had just shifted from Showbiz Pizza Place to Chuck E. Cheese's.
Chuck tried to explain it to me in the training video I had to watch. I don't really remember it, but they dolled it up and acted like it was such an awesome thing that now Chuck E. Cheese's and Showbiz had combined into one fun-loving place.
Meanwhile, the animatronic band that lots of customers asked about, the one with the Cheerleader Mouse and the Gorilla who played the keyboard – was replaced by a rat in a tuxedo and his less-than-memorable friends.
So watching The Rock-Afire Explosion took me back for a bit, reminding me of my childhood days at Showbiz – and how the place was more about entertainment and fun and pizza than anything else. It reminded me also of how while I was working there, Chuck E. Cheese's was slowly transforming from an all-entertainment complex to a casino for kids.
But The Rock-Afire Explosion doesn't delve into this. It looks into the history of Aaron Fechter, a lovable genius who invented all the robots and members of the Rock-Afire Explosion band. He voiced the band leader, Billy Bob, among some other characters, wrote incredible, imaginative music for kids, and was able to capture the amazement of children of the 80's like me.
Also cut from the film: Fechter was the inventor of the Whac-A-Mole. Fortunately it made it to the special section of the DVD, and the Rock-A-Fire movie producers uploaded it to Youtube.
Very interesting story, huh? When I was watching the film, I'd already known the Whac-A-Mole story from my research on Aaron Fechter, so it didn't surprise me at all that when Showbiz closed down and Aaron was given this crap offer to relinquish the rights and creative control of the Rock-Afire Explosion, he said "no."
Sadly, it has resulted in Fechter's once-300-person-employed plant, Creative Engineering Inc in Orlando, to be cut down to just Fechter and several deteriorating electronics and robots.
But as the Internet came along, the Rock-Afire Explosion began to see a resurgence, when ultimate fan Chris Thrash bought his very own Rock-A-Fire ensemble and began programming the band to perform songs like "Ms. New Booty" by Bubba Sparxxx, and "Love In This Club" by Usher.
Fechter welcomed this new embrace of the Rock-Afire Explosion, and has since made a number of videos at the request of bidding fans.
Here's my favorite youtube vid, created by Fechter, who has done some incredible new things to improve what these guys can do. It's one of my favorites from The Arcade Fire. If I had a jillion dollars I'd pay Aaron to have Mitzi Mozzarella sing "Sprawl II."
Also, check out this AWESOME tribute to Davy Jones and The Monkees Aaron did a couple of months ago.
This guy is a genius. I thank him for years and am saddened by what The Industry did to him.
The last time I walked into a Chuck E. Cheese's was about four years ago. The animatronic band was completely demolished except for Chuck E., the pizza tasted like crap and all I could hear were bells and buzzers as kids kept plunking tokens to win really, really cheap prizes. Like I said – Casino for Kids.
I have a feeling that if Aaron had relinquished the Rock-Afire Explosion to CEC, they would all be in landfills right now. He did the right thing by preserving their memory.
Click here to subscribe to Aaron Fechter's Youtube channel, where you can watch many more videos and keep up-to-date on new ones.