This is a Sponsored post written by me on behalf of Slim-Fast for SocialSpark. All opinions are 100% mine.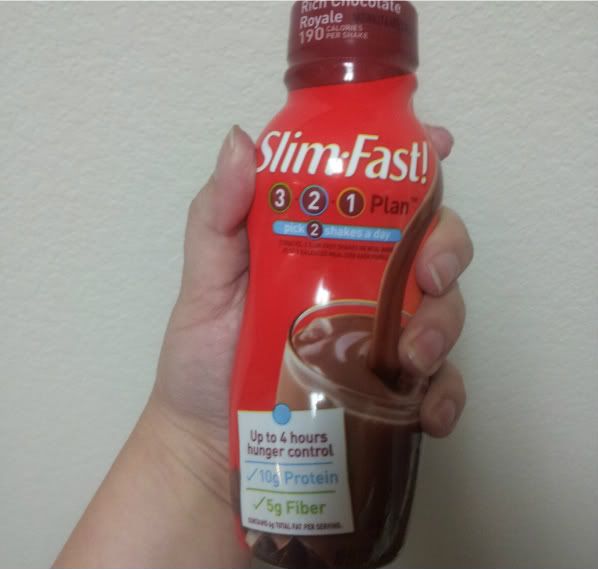 I do not claim to be an expert on weight loss or nutrition, but I have tried many Slim-Fast products over the years. I have mixed the powder with the milk, I've mixed the powder with the juice, I've had the Low-carb shakes, the high-carb shakes, the bars, the snacks, and lots of other stuff they've introduced over the years.
This season, Slim-Fast reformulated its line of shakes and now promises the creamiest, richest, tastiest shakes ever. I had the opportunity to try one of their new shakes to see what the hullabaloo was all about.
The packaging said "New bottle, New formula," so I picked up a pack and loaded it up. If you remember the heavy cans Slim-Fast used to come in, they are gone and have since been replaced with some lightweight plastic bottles. The new bottles are curvy and easier to handle, and also don't get so cold to the touch when you get them out of the fridge.
I opted for the "Rich Chocolate Royale," which Slim-Fast has been selling for at least a decade. It's one of the more popular flavors of Slim-Fast, along with Creamy Milk Chocolate, French Vanilla, Strawberries N' Cream and Cappucino Delight.
These are part of Slim-Fast's new 3-2-1 plan, in which throughout the day you choose two 150-calorie Slim-Fast Shakes; three 100-calorie Snackz either from Slim-Fast's assortment of bars and snacks, or go on your own with 100 calories of fruit or nuts; and then for dinner you eat something that's 500 calories and well-balanced.
Slim-Fast offers snack bars in the following flavors:
Chocolate Mint
Chocolate Nougat Gone Nuts
Chocolatey Vanilla Blitz
Double-Dutch Chocolate
Peanut Butter Crunch
I haven't tried any of their bars yet, but the chocolate-mint one does sound yummy.
So, basically, the plan is for you to consume 1100 calories a day; Slim-Fast just takes the calorie-counting part out of it. A diet of 1100 calories, wherever they come from, will likely lead to weight loss. The key is always to burn more calories than you consume AND to get the most nutritional bang for your calorie-budget buck.
One Slim-Fast shake is the caloric equivalent of drinking 3/4 of a 20-oz bottle of regular cola. The only difference is that bottle of cola really isn't going to give you much energy other than sugar, and it also has no fiber or nutrients that pack any punch and give you a fuller feeling. Slim-Fast shakes have 10 grams of protein, five grams of fiber and 24 vitamins and nutrients.
I'm sitting here, it's around dinnertime and I consumed a Slim-Fast shake about half an hour ago. I'm pretty full. I really have no desire to get a start on dinner yet, so Slim-Fast is delivering its promise on satisfaction.
But how does it taste?
Honestly, I can't tell the difference between the new formula and the old one. It's probably a better texture, but not noticeable enough. But if you've tried Slim-Fast before you will probably have the same experience.
I never thought Slim-Fast shakes tasted bad; they do, however, have a distinct taste that is still present. The new bottles are so much easier to put in your purse for a quick snack when you're about to head out to a holiday party or someone has brought a giant plate of fudge to work. Is it going to adequately replace holiday treats? Taste-wise, not really; but it may help curb your cravings when you're out and about.
So, the long and short of it: The "new" Slim-Fast shakes: They're good, but not really different. If you liked 'em in the past, you will still like 'em. And for the calories you get in each shake, you get a lot of protein and fiber to keep you going. Slim-Fast is available in the pharmacy section of retailers nationwide, including Kroger, Safeway, Walmart, Target, or online through Amazon.com or Slim-Fast's Facebook page.
Always consult your doctor before beginning a diet or exercise program, don't feel guilty if you splurge at a party this season, and most of all, take care of yourself!