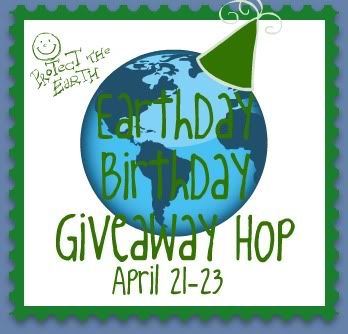 Can you believe this is the 42nd anniversary of Earth Day? Do you think things have gotten better or worse? The Kids are Grown, Now What?, Planet Weidknecht and Going Crazy, Wanna Go? are bringing you this giveaway hop. Each participating blogger is holding a giveaway for an earth friendly product worth at least $20.  Go forth and enter all of these wonderful giveaways and let us know what you are doing to celebrate Earth Day 2012!
Here at Bellesouth I'm excited – super-excited!!! – to be giving away a Sodastream Fountain Jet Soda Lover's Starter Kit worth $99.95!!!! This is what you'll get in your prize package: 
–       Fountain Jet – winner's choice of color (black/silver, red/silver or white)
–       1 carbonating bottle, reusable for up to 3 years
–       Reusable carbonator to fizz up to 60L of soda
–       Variety 6-pack of popular sample-size flavors
–       3 full-sized flavors of the winner's choice
We've been using the Sodastream here for nearly two months now, and I can't tell you enough how awesome it is. You will save money, power and plastic or aluminum with this kit! Click here to read my review of this fabulous, awesome and earth-friendlier product!!! 
This giveaway is for U.S. Residents ONLY. To enter to win, follow the instructions in the Rafflecopter form below. If you need help figuring out how to fill it out, check out this video tutorial!
Good luck!
Sodastream has provided the prize for this giveaway. All opinions are mine unless attributed otherwise.