This is a Sponsored Post written by me on behalf of Tony's Pizza. All opinions are 100% mine.

Tony's Pizza

has given me the opportunity to try out their new Crispy Crust pizza. So tonight, during a quiet evening at home, Mom and I decided to watch a little Dog Whisperer and try out Tony's Pizza.
Tony's Crispy Crust Pizza is a bargain – at around $1.25 at your local grocery store and comparable in price to another frozen pizza you might be familiar with. It is available in three varieties – Cheese, Pepperoni and Supreme. Tonight we chose the Supreme.
Here it is out of the oven. Notice it comes in what Tony's calls a "Scround" shape. Not quite round, not quite square. Kinda like my blackberry.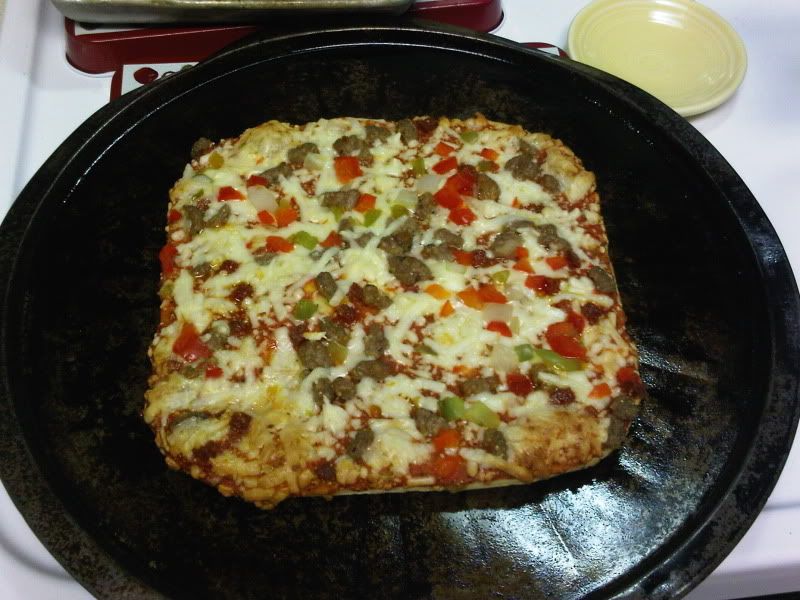 It cooked in about 12 minutes (the instructions said a little longer), but when the edges are brown and the middle is melted you know you have a perfect crust.
We split this pizza in half and combined with a salad, Mom and I had a great meal.
"Very yummy," Mom said. "It didn't get hard and crusty when you cooked it; you cooked it and it was pleasant, and the consistency of a pizza the way it should be." A lot of times pizza toppings "mush up together."
"The toppings were great; they tasted fresh," Mom said. Not too bad for a frozen pizza.
I noticed that the crust was crisp and had a slightly buttery flavor. I also liked that the toppings were from edge to edge.
It would make a great pizza for a late-night study session or a cheap movie or board game night with friends.
Right now a number of bloggers are participating in a tech prize package giveaway from Tony's that can make you win up to $500 in some cool stuff.
Draggonblogger was the first to announce the contest in his blog. Details are here: Tech Giveaway from Tony's