From the "unless I'd seen it with my own eyes" department: Way, way up in the middle of nowhere in the Ozarks – about an hour or so south of Branson, Missouri – there are people working nine months out of the year to build a Medieval Castle.
The Ozark Medieval Fortress, located in Lead Hill, Ark., literally is a castle in the making, and you can see it for yourself if you are willing to drive several hours into the middle of nowhere like my friends and I did yesterday.
Frenchman Michel Guyot is the guy who brought the castle to Arkansas. He's spent a lifetime purchasing and restoring castles all over France. In 1997, Guyot decided he wanted to actually build a castle from scratch, and was approached by French-born retirees Jean-Marc and Solange Mirat to use their purchased land in Lead Hill. In 2008, the project began. And I just heard about it last week and a whole bunch of my friends haven't heard about it until just now. But it's fine because it looks like they'll be working on this for the next two or three decades.
And now, onto the photos!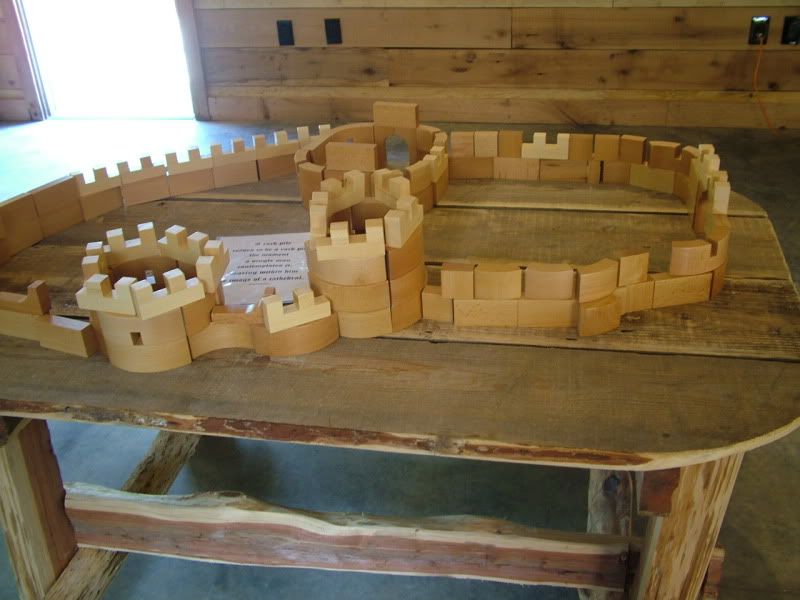 This is the Lincoln-log model for the first phase of the project. Trust me when I say it's going to be a whole lot bigger.
Here's a teeny-tiny wooden fortress at the beginning of our journey.
I guess back in those days, people were really small.
Here are the sheep, who demanded our attention (and food!) The sheep's wool is used to make yarn, which was displayed at the Goodwitch's house.
And here is where we see all the cool things the Goodwitch has on display.
Let me remind you readers that this place is not an "Historical Re-enactment" place. They are building and making these items because these are the items they need to keep the Fortress going and help it to be constructed. With that said, We still haven't seen the guy who has been working on his chainmail.
That would be this guy.
He told me he's done all the leatherwork for his armor, but not really much of the chainmail. Now, I make jewelry and it annoys me enough to have to put those little links together with pliers. I cannot imagine what it would be to use heavier links to make a shirt with sleeves, a skirt, pants, etc. All in the hopes that someone won't stab you to death when you are jousting.
Here's the quarry. All of this limestone will be used to buid the castle; no outside materials. They did have to do some blasting because of labor and safety laws, but they're trying their best to do as much as possible the way it would have been done in the 13th Century.
And here's my longtime college friend Kelly, about to split some limestone. She's holding something that is somewhat like a sledgehammer but is really just held in place while the guy hits the stone enough times for it to split down the middle.
SCHWACK! Okay, that's enough for now. I'll post more photos and info from the Fortress tomorrow.