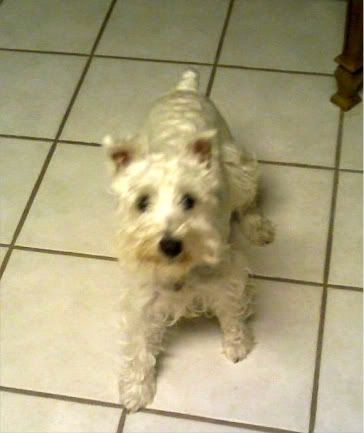 This is Emily.
Emily is a white Schnauzer, nicknamed "Crack-dog" by her owner, Stephanie. While Stephanie is out on a business trip in Atlanta, I go in and check on Emily twice a day to make sure she is watered, fed and sufficiently played with. Sadly, there's work being done on the house and allergens everywhere, so I can't stay there with Emily all the time.
This evening I greeted Emily with a giant bone that was used to season a big pot of soup. Emily immediately fell in love.
Emily immediately started feasting on the bone, took it out in the yard, and was very disappointed that the bone was too big for her to pick up with her teeth and carry into the house. (However, the dog-sitter was not disappointed.)
Emily stopped playing with the bone, went in and played with me and then ran back and scratched on the back door, barking, "THE BONE! THE BONE IS OUT THERE! THIS IS IMPORTANT!" So I let her go out and play with her new present before giving her a bedtime treat so she'd retreat back to her sleeping quarters.
So, Emily has a new favorite toy/snack. And possibly a new favorite dog-sitter.