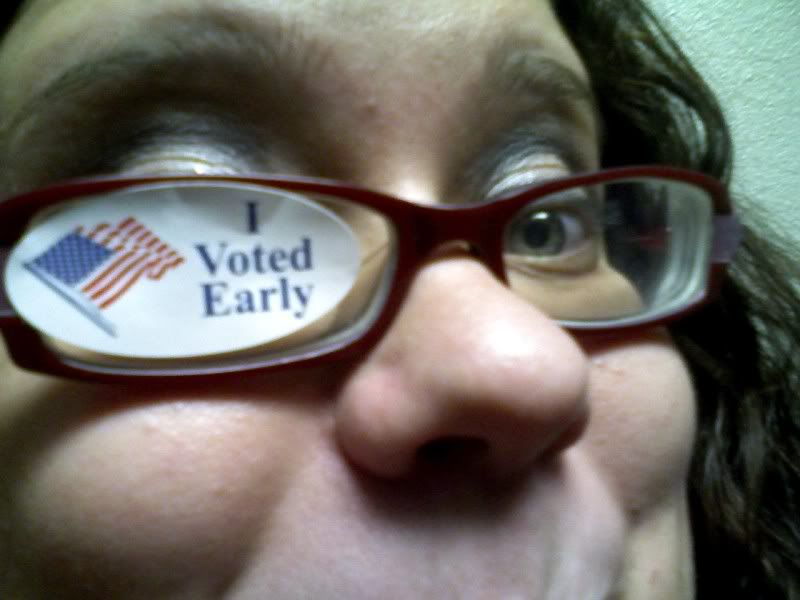 I wasn't even going to vote today. I love voting on Election Day. Getting up early, talking with the people, making nicey-nice with the cute old lady volunteers, getting my "I Voted" sticker and showing up for work on Election Day saying, "I voted! What about you? HUH? HUH?" and being all nerdy about it.
But no, I wasn't going to vote today. I was just going to, you know, go to the county clerk's office and register with the county as a minister with the Universal Life Church since I have a wedding to officiate tomorrow.
And then I get there and I saw this 4,000-mile-long line of early voters. (Okay, so maybe it was more like 50 feet long. Anyway, still.)
"Crap," I thought. And I stood in line. And some lady put up a sign that said if you want to conduct non-voting county business you could mosey on through to the front and someone would help. But the line just kept moving more quickly, and I just decided, "Well, might as well stick around."
So I did. And I joked with the people around me. And I saw a 101-year-old lady in a wheelchair come up and get worried because the line was so long, but the county folk and the other voters were nice enough to let her head up to the front.
So I went in. And I voted electronically. (I know, I know…ask for a paper ballot, blah blah blah…) and lemme tell you – I was just as apprehensive as all of you naysayers out there. But once I saw that my choices would be printed on the paper next to me, reviewed and then submitted with no chance of me screwing up, I decided to go along with it.
And it was easy. Took a couple of minutes. And I left, I got an "I voted early" sticker, and I headed out, proudly wearing my new accessory and telling everyone I saw that they need to get themselves to early voting NOW.
And I recommend it. Even me. I, who love election day like no other, recommend early voting. Because you know what? It would really suck to see some of you going in on election day and there's some problem with your registration. Go there. Check out. Vote. Beat the crowds. Be awesome, be heard.
Vote. now. Okay, not now because it's the middle of the night all across the United States and probably nobody's allowing voting at these hours.
And if you're lucky you might get some Halloween candy! And maybe a sticker, too!